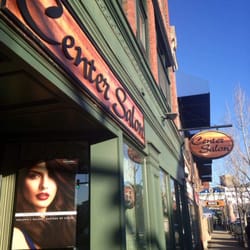 Local patron Philip Enders said it best, "Great haircuts, amazing staff, and a good price. I've personally had my hair styled by Tommy Tu who is professional with a deep sense of style and a masterful ability to make you look good."
Center Salon only popped up in Brighton Center in 2013, but has quickly become the go-to establishment for all beauty needs. Tommy Tu has spent his life making men and women look and feel beautiful, and man does he make you feel special. Walk in a few years after your first haircut and he will undoubtedly remember your name, where you work, how you like your hair styled, your favorite cocktail, your children's names… his attention to detail extends far beyond creating gorgeous hairdos.
After the Vietnam War, Tommy's father, a South Vietnamese army Commander, and mother moved to the US to start a new life. The second of seven children, Tommy was the guardian of his siblings. When his father became too busy to cut everyone's hair for school, Tommy stepped up. Realizing they didn't need to be subjected to their father's bowl cuts any longer, Tommy had his first clients.
Throughout high school and college, Tommy experimented on friends and family, later working for his aunt at her Boston based salons. Check out Mini's Style in Post Office Square and you'll quickly recognize why she has a 5-star rating.
In 2013 Center Salon was moving locations and looking for new ownership. A coincidental series of events, the aligning of the stars, and Tommy found himself the top candidate for the job. And thank god he did!
Today, you will find Tommy in Center Salon in Brighton Center every day of the week… including those days the salon is closed. His staff of incredibly talented stylists and artists help to continue to bring in new life-long clients and assist in the expansion of Center Salon. Hair, makeup, waxing, nails, a planned expansion to laser hair removal; Tommy won't rest until he's able to provide every beauty service to the customers who rely on him.
Even more important than beautifying their large rolodex of loyal clients, what sets Center Salon apart is their commitment to community improvement and fundraising. Twice a year they head over to the Perkins School and lend their expertise to making the students look stunning for prom and graduation. And you won't see this advertised in Center Salon, or hear Tommy boast of all the good they do. He is a service-oriented person who gives back for the sake of supporting his neighbors and community
Center Salon also hosts an annual event for the Boston Children's Hospital. If you've never been, stop into Center Salon in early summer for a full day fundraiser. All services are offered at a discount to attract participants, and all proceeds go to support the Children's Hospital. At night there's a dance party with raffle and drinks, and the occasional karaoke participant.
It doesn't stop there though! Tommy is always planning new events to show his community he appreciates them. Each autumn he hosts a client appreciation party. He's currently working on their next teacher appreciation day. AND he's working on a new event to support Dana Farber.
So if you're in the market for a beautiful new style from highly trained professionals, check out Center Salon in Brighton Center where you'llbe treated like part of the family, and know that your support is also going to help Tommy and the crew in turn support your friends and neighbors in the Boston community.